I don't think I can really explain what Yoshimotozaka46 is because I just found tweets about it last night and I don't know much about female idol groups, but I BELIEVE (please correct me if I am WRONG), Sony and Aki-P who produces the Sakamichi groups Nogizaka and Keyzaka idol girl groups is putting together an idol group consisting of talent from Yoshimoto's agency. All 6000 talents are encouraged to apply, whether they are comedians, singers, etc. There is no age limit.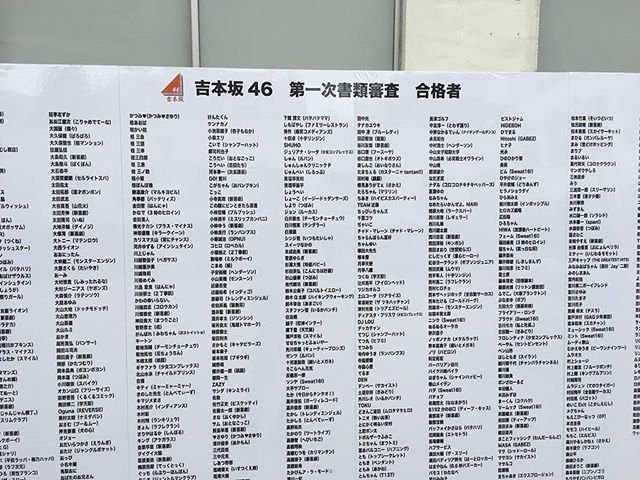 Endo's name is there among the other 700 or so people who made the cut. In addition, Yoshimotozaka46 also will have their own TV show titled "Yoshimotozaka ga Ureru Made no zen Kiroku" that will broadcasted by TV Tokyo and TV Osaka.
source
I've been RTing whatever English news I can find. I can't find one true source but all the comments regarding the matter have been more or less consistent.
"I do not know if Yoshimotozaka can really exists like Nogizaka and Keyakizaka, but probably there are also slopes in Yoshimoto, just like the popularity uphill, downhill, and so on. Therefore, I would like to produce this. Yoshimotozaka 46"
By AkiP"
source
"Apparently yoshimotozaka would collab with nogizaka and keyakizaka on their debut."
source
one of many sources (JPN)
and
a clearer view of the full list
AramaJapan ENG article
So far I've seen a lot of hate tweets, saying stay away from our idol groups, etc. But there's a handful few that are saying, "Hamada Bamyu Bamyu can happen, so can this. Fujiwara as center!!"
There is a thread up on
Stage48.net
for discussion as well!
Of course the reason I found out about this was because I was looking up Hizashin.. Both of Fruit Punch made the list too so I did whatever I could to find out more.